Hard: A novel
Wayne Hoffman's debut novel, newly re-released by Bear Bones Books, has been described as "smart, fast-paced, raunchy and funny, a sexy comic strip of a novel about the way gay men live now." (One reviewer quipped: "Think Woody Allen meets ACT UP.")
Click here to buy Hard in paperback, or as an ebook.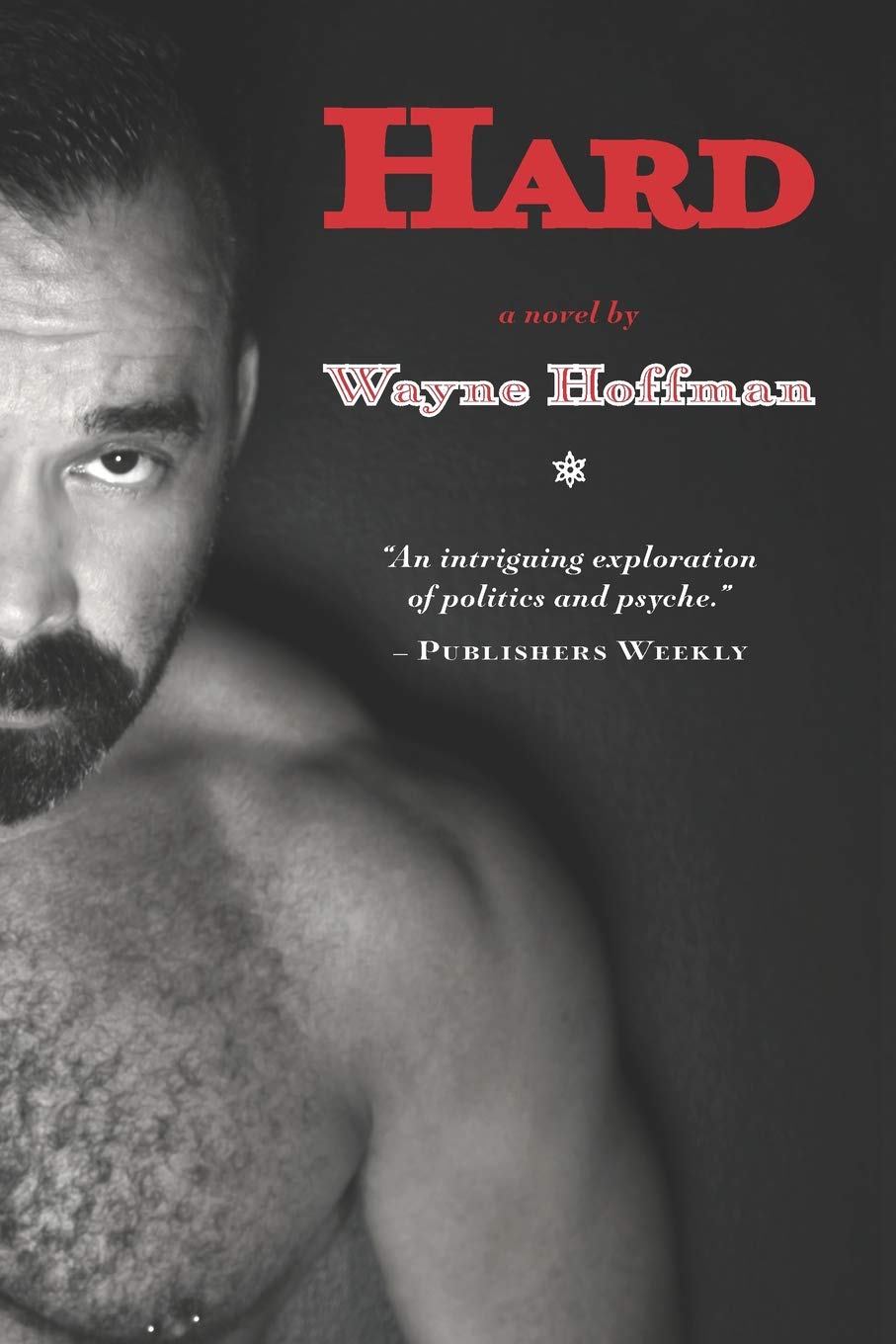 Synopsis
It's New York City in the late 1990s. There's an ongoing public campaign to close down adult businesses. And gay men are deeply involved in the crackdown — on both sides.
Moe Pearlman's sex life is under attack. A conservative mayor is closing down bathhouses, sex clubs and adult theaters — with the secret cooperation of Frank DeSoto, publisher of the only gay newspaper in town. As the crackdown escalates, the tensions between Moe and Frank boil over into a full-scale battle — and, eventually, a personal tug-of-war — between two people with opposing ideas of what it means to be a gay man in the age of AIDS.
Moe thinks he might have accidentally stumbled upon romance when he meets Max Milano, but after Max walks in on Moe and several buddies during a steamy scene, Moe finds that the man of his dreams might not be able to handle such a promiscuous boyfriend. And Frank, after a decade-long drought, is enjoying a sexual rebirth as his 50th birthday approaches, but he's not sure if he can find a partner without having to pay for it. Added to this mix is Aaron Chiles, Moe's best friend, who's having trouble accepting the fact that his new boyfriend is a hustler. Meanwhile, Gene Macintosh, Moe's HIV-positive ex-lover, is delighted to find that his viral load is undetectable, but his obsessive partner still treats him like a health risk.
This debut novel offers a no-holds-barred look at gay life in New York. From backrooms to newsrooms, the Meatrack to City Hall, Hard explores a world where sex is a matter of life or death, and politics make the strangest bedfellows.
Reviews
"A breath of fresh air in gay male fiction...Hard is a compelling, sexy read and will become, over time, a book with cultural stature and status."
– Lambda Book Report
"Sexual politics — both public and private — play out against the cityscape of mid-1990s Manhattan in Hoffman's absorbing year-in-the-life of a group of gay men...The larger issues of sexual rights and AIDS add depth to their voices, making this sexually explicit debut novel an intriguing exploration of politics and psyche."
– Publishers Weekly
"A knockout. Reading Hard reminds us that the important, strong and vital gay novel is still with us. It vividly and movingly captures what it means to be an urban gay man living in the last decade of the 20th century, when everything looked so bleak and yet so bright at the same time."
– Guide magazine
"Hard makes political activism sexier than it's been in years...As hot as it is humorous, Hoffman's Hard is the hard-to-resist read of the summer."
– Chicago Free Press
"A novel that's equal parts salacious, political and topical, where NYC gays look for love and lust in a Manhattan where homosexuality is under attack. And despite its steamy opening, Hard is ultimately a valentine to being gay in the big city."
– HX magazine (NYC)
"Hoffman's brisk, chatty prose makes for fun reading, and best of all, the lively, well-rendered characters and their interpersonal dialogue feels genuine...Perfect for summer reading, Hoffman's spirited debut is explicitly erotic, likable and satisfying."
– Bay Area Reporter (San Francisco)
"This is one debut novel that packs a no-holds-barred wallop."
– Gay and Lesbian Times (San Diego)
"This book is smart...along with heavy doses of sex, politics and men, it is packed with relevance."
– X Factor magazine (Phoenix)
"Extraordinary. Complex. Superb...While Hard is political, sexy, comic, and full of social-consciousness, it is also encased in a surprising romantic yearning."
– Velvet Mafia
"Hard is smart, fast-paced, raunchy and funny, a sexy comic strip of a novel about the way gay men live now. It's Faggots 25 years later, but nimbler, more accurate, more generous and much, much wiser.
– Christopher Bram, author of Lives of the Circus Animals and Gods and Monsters
"A quick-paced debut that neatly straddles the fence between politics and porn. By turns erotic and vulnerable, playful and deadly serious, Hard is refreshingly easy to like."
– Aaron Hamburger, author of Faith for Beginners and The View from Stalin's Head
News
Wayne talks about the genesis of Hard, queer activists, and writing about AIDS in the Bay Area Reporter.
Wayne reads the opening of Hard, and talks about bears and other outsiders in the gay community, on the Bear Soup podcast.
Wayne wrote the screenplay for director Peter Pizzi's short film Sucker, based on an excerpt from Hard.